These are some pictures of our first boy, Bode. I believe his dad was Atom, born may 17 2010.
2021 litter
Hi Connie – It's David. I hope you are doing well and had a Happy Thanksgiving holiday!
I am attaching a picture of Murphy – she is so precious and in great health. Smart little girl – she has this look that makes us melt. She brings absolute JOY to our family!
Moxie is doing great. Although she loved the snowdrifts and jumping up and down through snow, she is totally amazed by grass and the fact that she can now reach all areas of our large backyard. She loves to chase the stray leaves from last fall and the Spring winds blowinghrough her coat. Wants to be outside frequently during the day. Is amazed by the new sights and sound of birds, squirrels and more pet and people being out in their yards now. She likes to chase bubbles I blow for her outside, too. Totally a retriever as she constantly has a toy or something in her mouth. She is teething and just finished her vaccinations this week. She now weighs 26.8lbs. She is fit as a fiddle as she is constantly running up and down stairs in the house or running after balls and leaves outside. She is such a joy. Everyone loves her. I'll try to update you more frequently. Been a busy, hectic winter for us.
2020 litter
Hello, I just wanted to check in and let you know that Macie (you called her Bailey) is doing great! She just turned 1 today and we can't imagine life without her. She weighs 62 pounds. Her sister Jordi, will be 6 tomorrow and they are best buds. Macie has certainly added some entertainment value to our house. Thanks for letting us have her!
healthy and happy puppies
We bought our first goldens from Connie about 3 years ago and since then we have purchased another. They all have been very healthy and socialized when we picked them up and were ready for us to start loving them. She has helped us now on every little question we have had for 3 years and is now a friend. We had our dogs we purchased from her get their OFA testing done and they have all passed. I would not hesitate from buying a puppy from her!
- Heather
"Wyatt"




Priscilla x Wyatt Pup



Hi Connie
Wyatt is doing great! He and Aiden were both tired after the ride back home. He did great in the car and has been doing really well here getting to know us.
July 2017
Your pup continues to do great. This shot is from late June; she loves to carry around her food dish.
sb

May 2017
Hi Connie,
Nearly one week in and all continues to be great. When (if?) the weather warms, I'll get some more pics to send. We do love this pup.
sb
*
Good morning,

Here is our pup with my 8 year old Golden. They are doing great -- play wonderfully together!
*
Good morning Connie,

My pleasure! She continues to do well. We had thunder and lightening last night, and it didn't phase her (whereas my 8-year old Golden gets very nervous). I'll be happy to send pictures on a regular basis so that you can see how she's growing and the fun she's having.
Shortly I'll be scanning and sending the vet report for your records.
Thank you again for such a lovely and sweet pup. My entire family is absolutely crazy about her.
sb
*
Hi Connie,
Everything is great!
She had a great drive back to MN from your place. Sat in my daughter's lap the whole time and was so quiet and well behaved. She's been eating just fine/regularly, and everything that comes out the other end is as it should be. I went to the vet after work tonight and got a clean bill of health. I'll scan and send the results from work tomorrow.
We call her Sunny. She is an absolute delight, and we could not be happier. And, she and our other Golden are getting along wonderfully.
Thanks for checking in -- everything is as good as hoped!
July 2017
Hi Connie,
I have been meaning to write this for a while, but time got away from me. We just wanted to thank you so much for our puppy. We named him Zeke, and he is truly one of the best dogs we've ever seen/had. He has such a wonderful disposition, is super smart and is such an easy-going and chill dog. Everyone who meets him is in awe of him - not to mention how handsome he is! I've attached a few pictures in case you were interested. We are all in love and can't thank you enough. Hope all is well!
Robin
"Riley"

Leila x Wyatt Puppy
May 2017
Hi Connie,
Just wanted to let you know that we love our new puppy! He is so smart and well behaved. He can already almost make it through the night without having to go outside. He has not had an accident in his crate yet. Just a couple little piddles on the floor the first couple of days. He follows us everywhere but when we have to leave him alone he is fine with that too. And he is so much fun to play with. I can see I'm going to have to buy him lots of toys. I attached a picture.
Sally
Booh & Atom: November 2013 Litter
Hi Connie,
Klondike is doing great. We really love having him! He is so cute and cuddly. He went to the vet this past Tuesday to get his shots and he weighed 11 lbs 12 oz! He's growing like a weed. He is a fast learner too...he already knows how to sit and come. He starts puppy kindergarten on Feb 6th. You mentioned that you were going to send the papers and the special tag you made for him. We know you've probably been really busy but we just wanted to remind you in case you forgot with all the other things going on. We hope your husband is doing better.
Thanks for everything,
Paul and DeAnne
Ariel & Atom: 8/1/14 Litter
Hey Connie,

Was just giving you an update on pancake. Shes doing amazing. Super playful and gets along with both butters and biscuit very well. They play extremely well together. Shes a big ball of energy and very outspoken. Super great dog thanks for giving me a good pup. Ill make sure to include some pictures in an email for you to check out and see how shes doing. She got her vet check and everything is good so far. No issues. She already knows how to sit, is 13pds, and very strong appetite. Also i was wondering about when i might also be getting the paperwork for her so i can get her registered with akc. Thanks for everything

Charles
 Booh & Atom: November 2013 Litter
Hi Connie. Just want you to know how much we love our puppy. He is really
fantastic!....doing extremely well. He is so fun and frisky yet very relaxed and
cuddly too. Sleeps thru the night in a little crate by our bed. He and our
Newfie absolutely love each other. We are so happy with him. Oh- and I did find
out I have a broken foot. On crutches and in a big boot for at least six weeks-
no weight on that foot! Dave will be home with us for awhile- so we have lots of
time with our dogs! Hope your husband is doing better and you are doing fine
too. Most sincerely,  Mary Talbot
Priscilla & Gabriel Puppy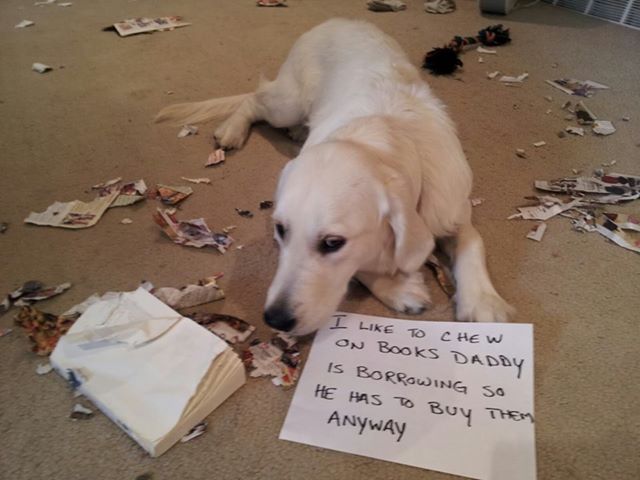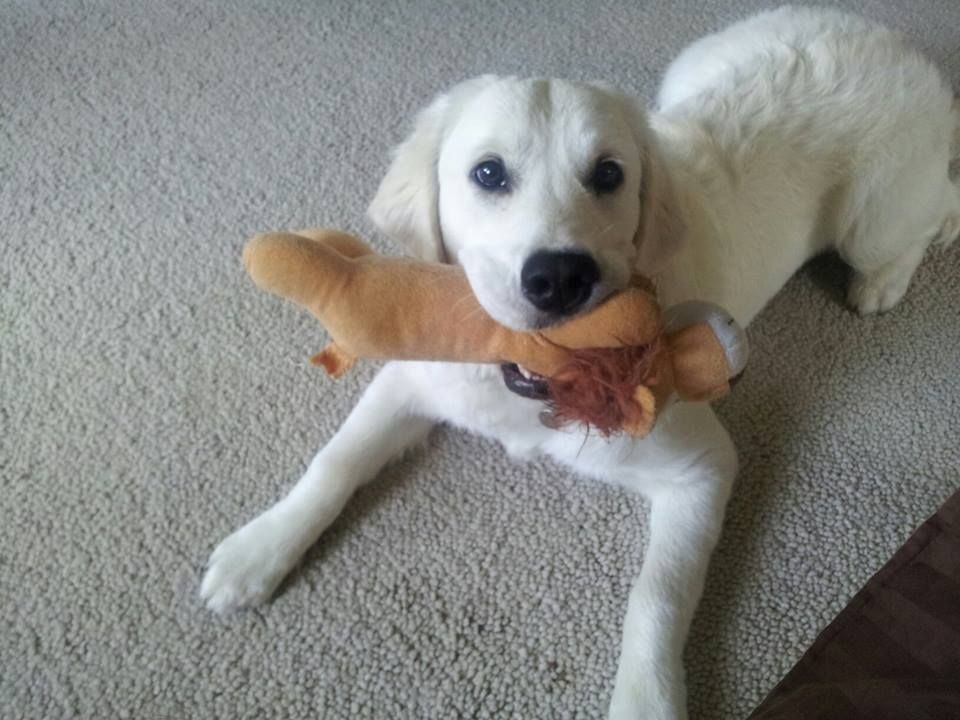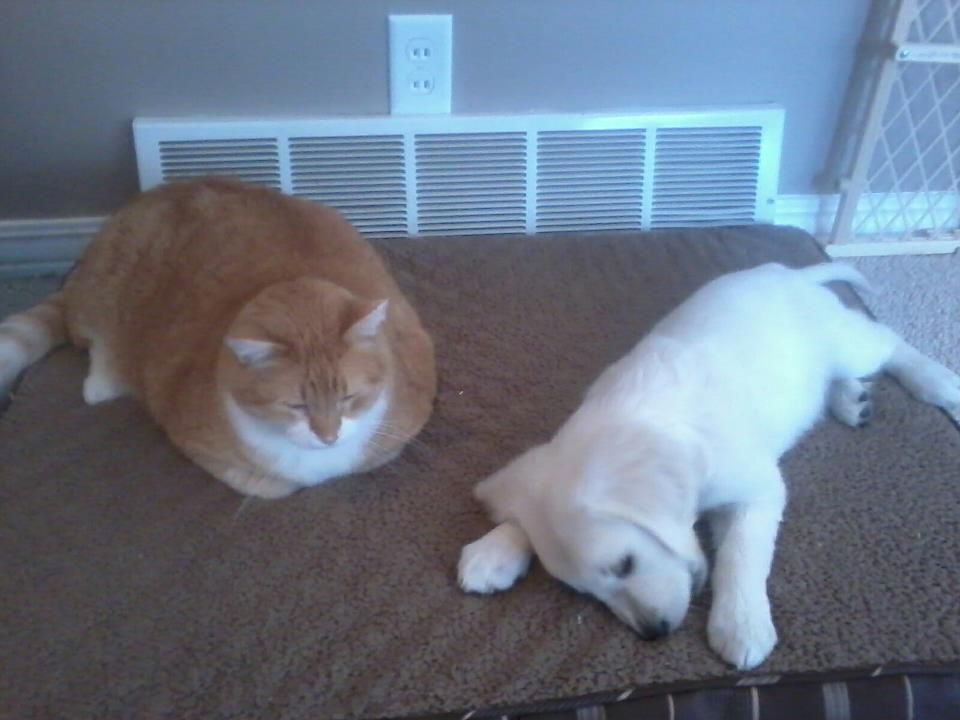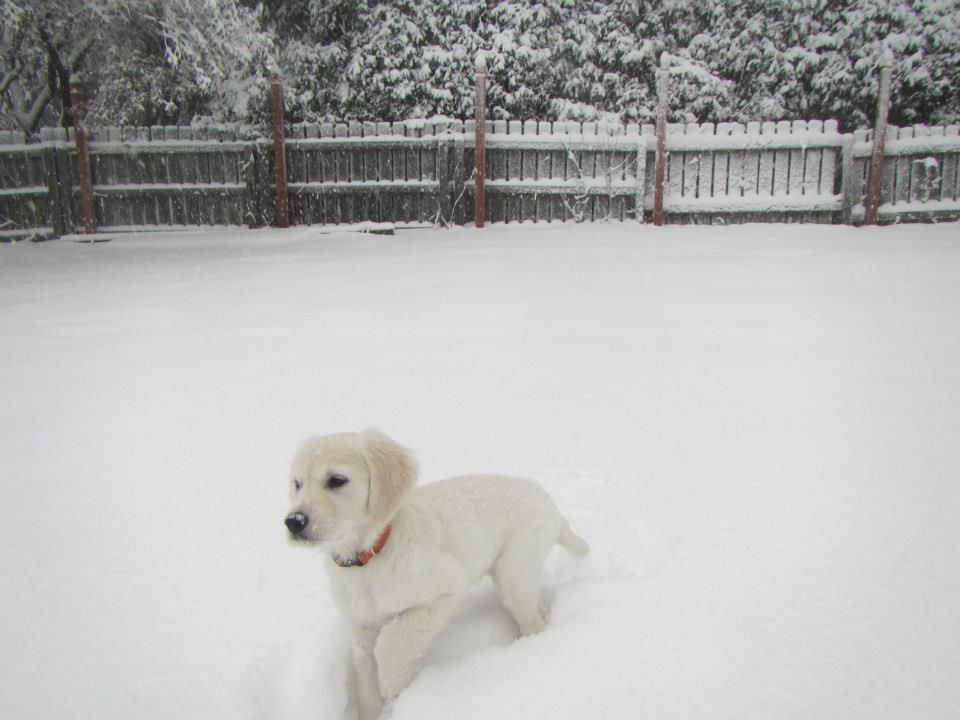 I thought maybe you would like to see some pictures of Athena now that she's almost 1 year old. We have been loving her! She's such a well-mannered dog and nothing but love. We've been sociallizing her as much as we can and it's really paid off! She is great with other dogs and with other people. She loves water and in fact we bought her a kiddie pool that's all her own and she will lay down in that to cool off often. She also likes throwing rocks into it and dunking her head under the water to get them back out.
Yesterday she had her very first chewing episode so I had to do a "public dog shaming" pic :)
-Charlie
 Priscilla & Gabriel puppy
October 2013
I wanted to update you on Zoey!! She is the sweetest, best puppy!!! Here she is with her 3 year old Golden Retriever brother. She sits, shakes, high fives, is a great walker, gets along so well with her 3 and 10 year old brothers and is so good with people. We just love her!!! Thank you!!
September 2013
We just want you to know that we love our English Golden Retriever that we adopted from you. We have named her Zoey and she is about 12 weeks old. Here is a recent picture of her.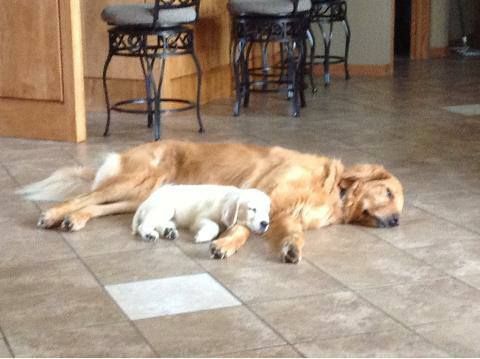 August 2013
Hi Connie. Thank you for the email. ZOEY is doing great!  She is eating well and having solid stools. She had her puppy check up today and all is good. She weighed 12lbs 5 oz. We put her in her kennel last night at 10:15. She barked for about 5-10 minutes and then slept until after 6 this morning. Last night, she even had her first visit to Pet Smart to get some toys. Check out this picture of her and our 3 year old Golden Bo. Love it!! Thank you so much!!!
Julie
Booh & Duke puppy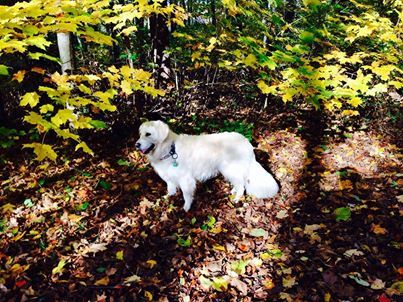 October 2013
Hey Connie, here is a pick of Sophie enjoying the outdoors today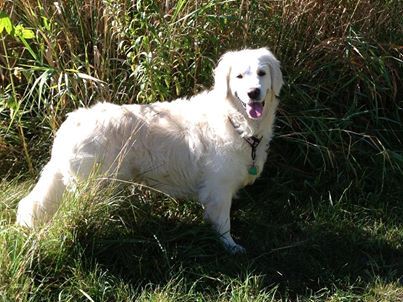 Hi Connie. Hard to believe my beautiful Sophie will be 4 (boo and duke litter) on September 25th. I love my beautiful girl. She is 75 pounds. She thinks she is a princess.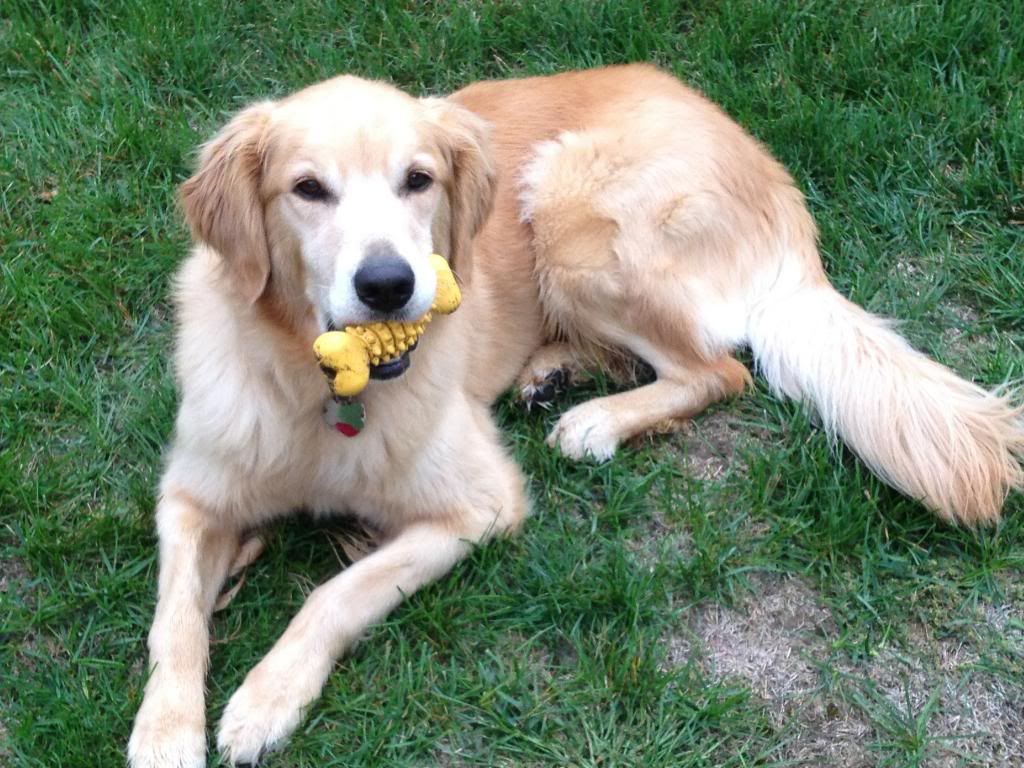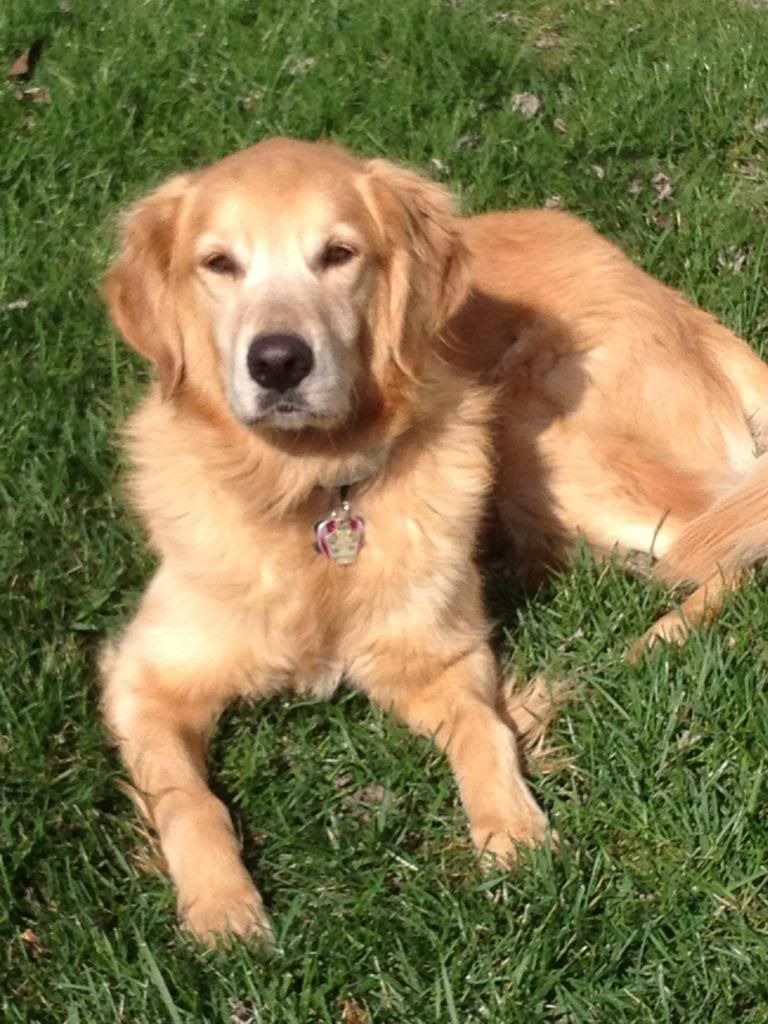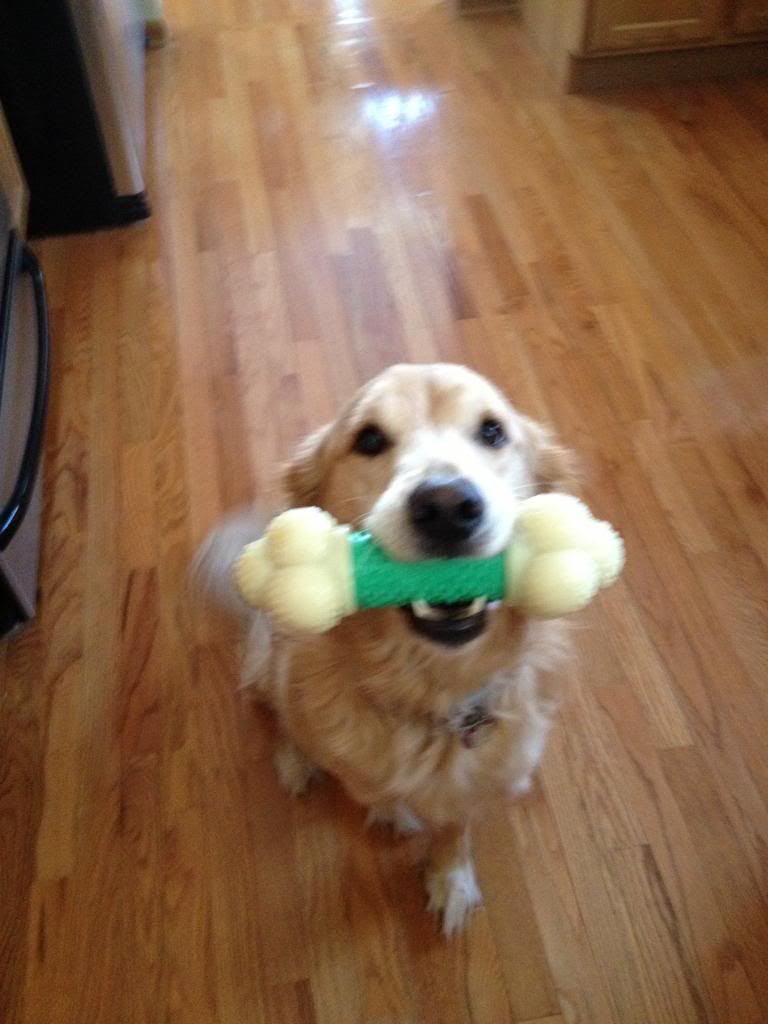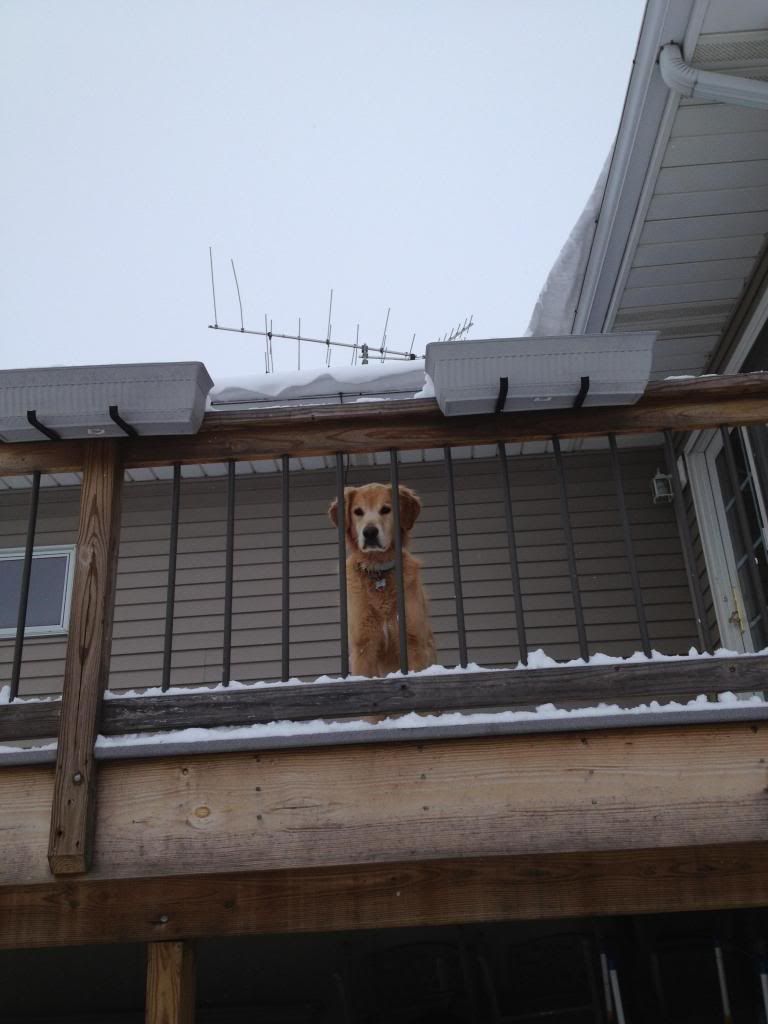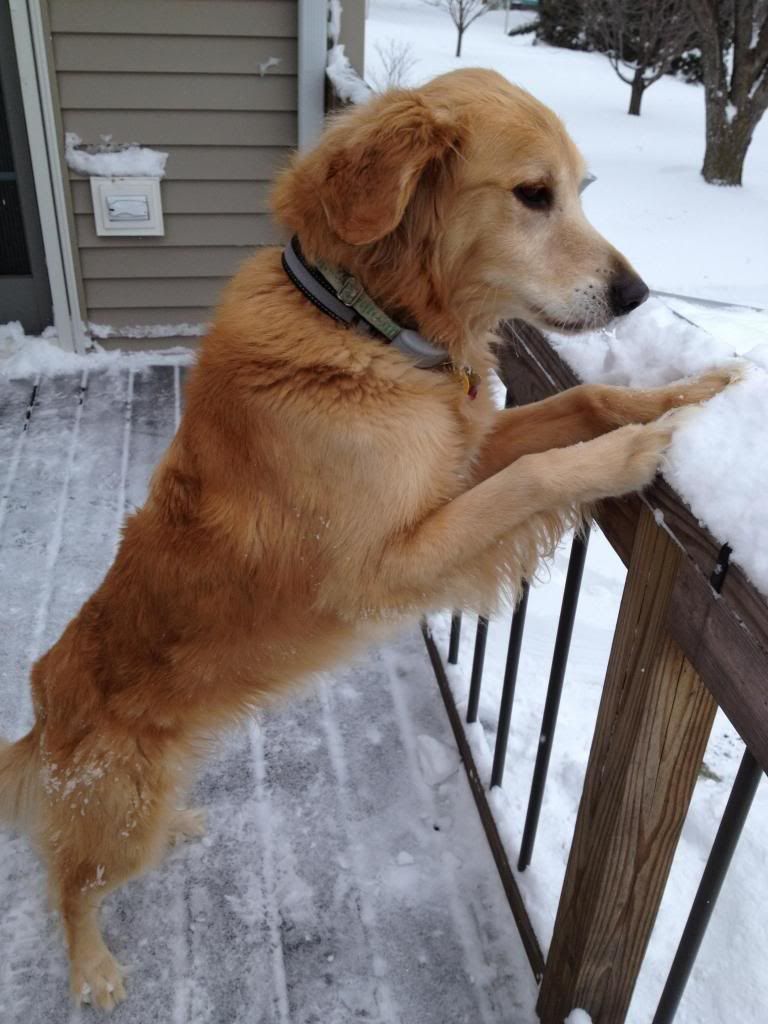 September 2013
I have bought several goldens from you, the most recent being Lambeau.  He was born in late January, 2008 and I picked him up from you in mid-March 2008.  He is 1/2 English and 1/2 American.  I was wondering if you had record of who his parents were.  Lambeau is a great dog and we are considering getting a puppy in spring, 2014.  Since it appears you are mainly breeding English Golden's, I was wondering if his dad was still being used for breeding or not.  I was also wondering if you were thinking ahead to roughly January 2014 to breed more so puppies would be available to pick up in spring. Email or call when you have a chance.  I've attached a couple of pictures of Lambeau for your enjoyment. 

Jerry S, Dodgeville, WI.

Wanted to take a moment to update you on Samson.  He has been with us going on three weeks now.  Other that he does not seem to like the Florida heat, being from Wisconsin, he is developing well.  Clean bills of health from the Vet.  The Vet
stated that Samson is very alert and bright.  The Vet marvels at Samson's bone structure.  Interesting to see people's reactions to Samson, they are not familiar with his breed.  I am constantly enlightening them.  But I look at is an opportunity to educate.
As for Samson himself, he has grown extremely attached to my 10 year old son, which was why I wanted a dog in the first place.  Samson enjoys all things a puppy does.  We are much further along in the house training than I thought we would be.  He sleeps through the night so I do not have to wake up and walk him.  I have attached a photo of him taken yesterday.
And his coat has shades of cream from the top of his head down the center of his back into and through his tail.
Oscar
Gabbie & Atom puppy
I bought my family one of Connie's glamorous golden puppies for Christmas this year.  His name is Oakley and he is ½ English and ½ American Golden Retriever (Gabbie and Atom are his parents). My husband and I have owned dogs before but never raised one from 7 weeks old. So it has been a learning experience. I have made many calls and sent emails to Connie asking for her advice and she has always been more then generous with her 30+ years of knowledge and wisdom. I would and have highly recommended Connie and her Lil-Bit-O-Goldens's. Her puppies and dogs are beautiful with wonderful, unique personalities. I was drawn to the fact that the puppies are born in her home and handled daily. I will never forget when I asked Connie what she thought the difference was between the English and the American Golden Retriever and she said they are more human. And I see that trait in Oakley more and more each day. Thank you Connie for breeding such wonderful dogs.
- Jill S.
March 2012
Connie: Sorry I haven't kept up with Bellas pictures. Just want to let you know she is the office mascot and everyone loves her. She is the joy of my life and thank you for letting me be her supporter.
Sincerely,
Susan R.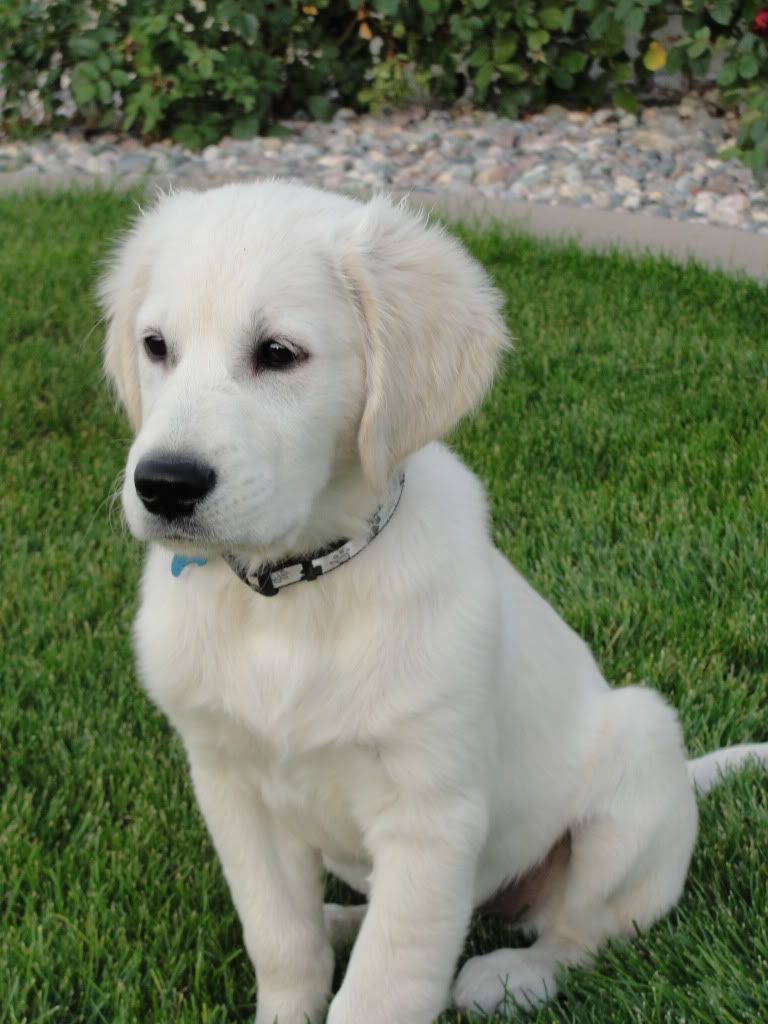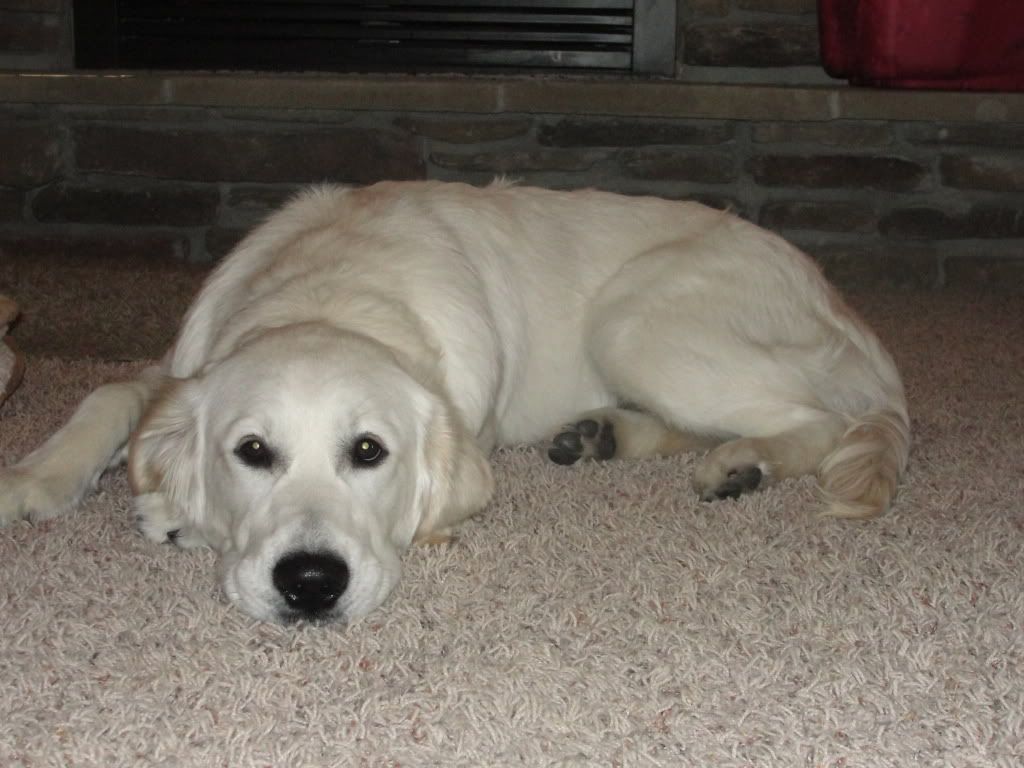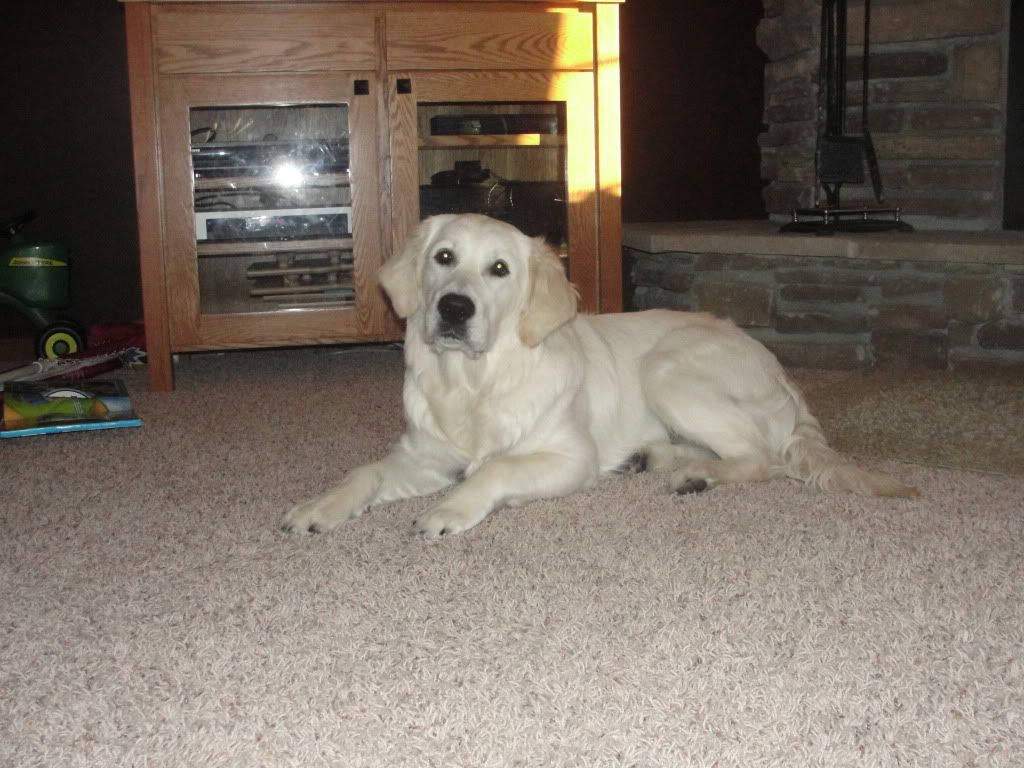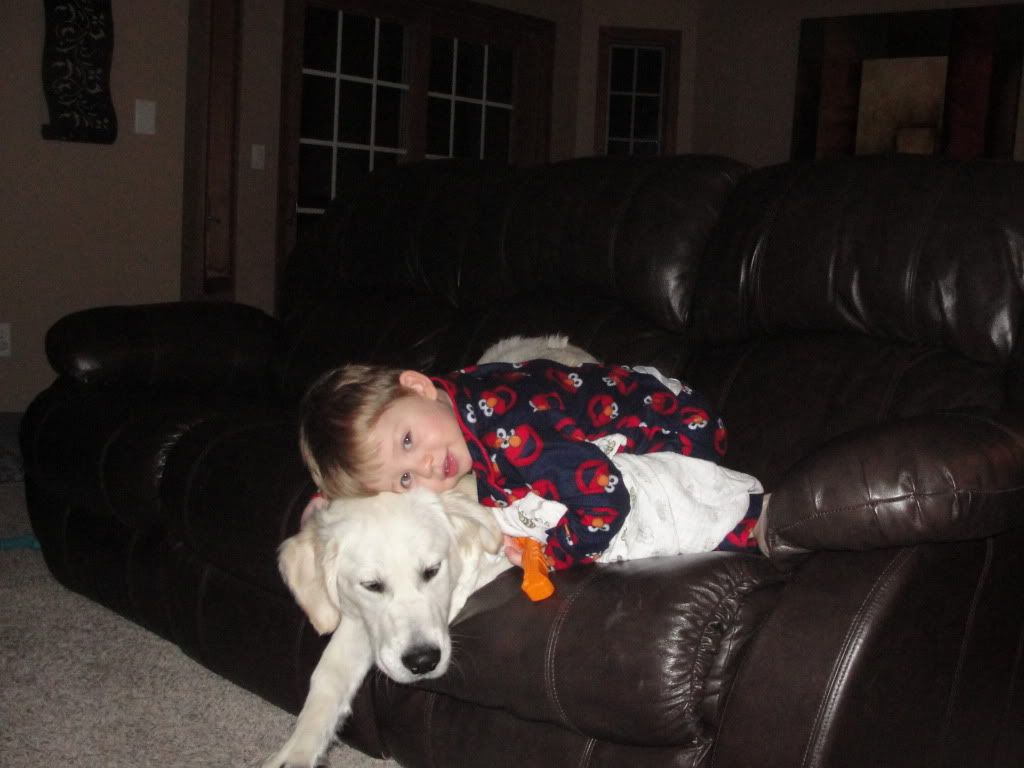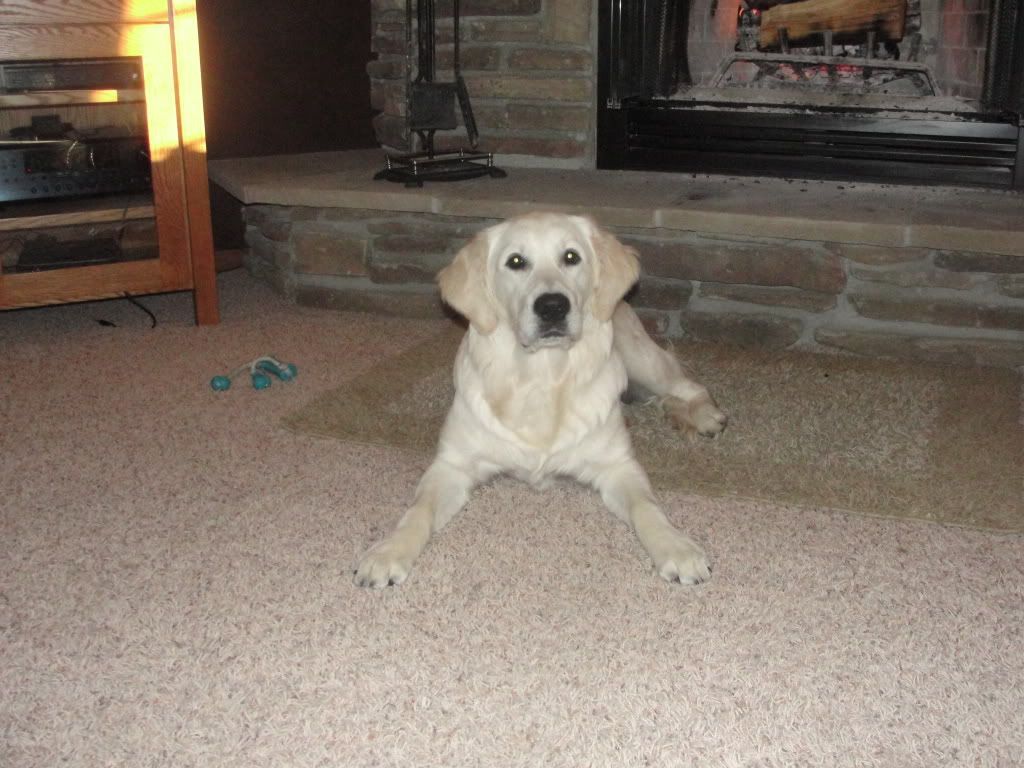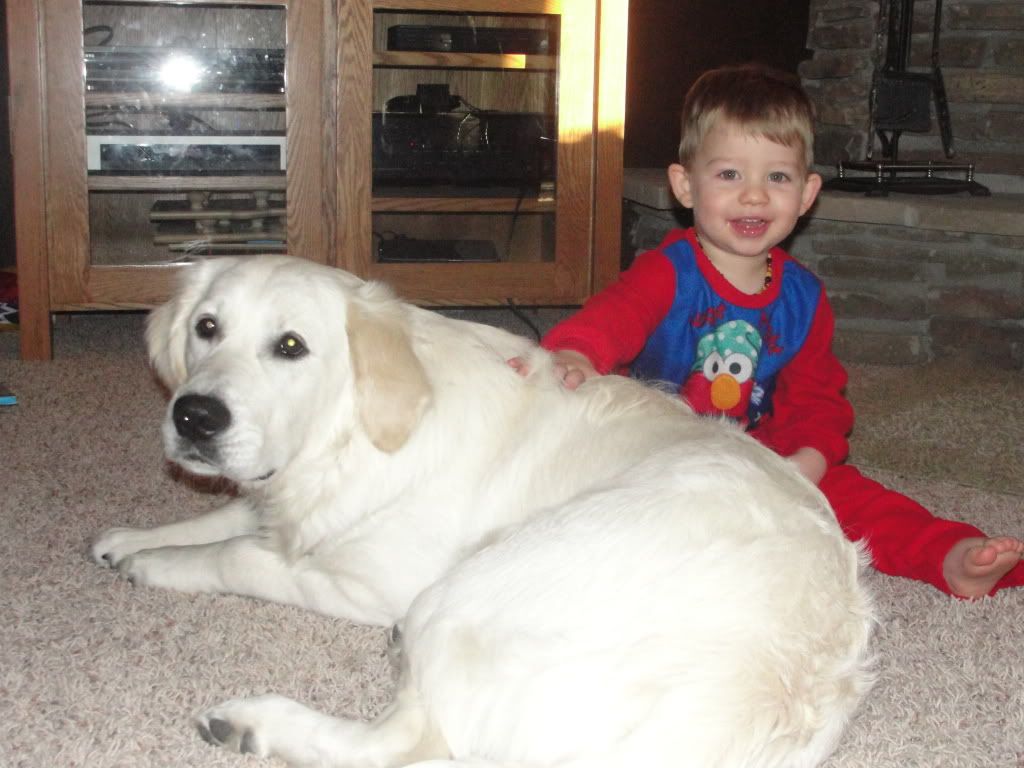 February 2012
Connie,
Attached are three pictures of Hoyt. I will send another one due to size. The first one is from this summer and the others are very recent. He has been an absolutely wonderful dog. I was the skeptical one about getting a dog but he and Jax are the best of friends. He is so docile and great with kids. He has been an amazing addition to our family!
Megan H.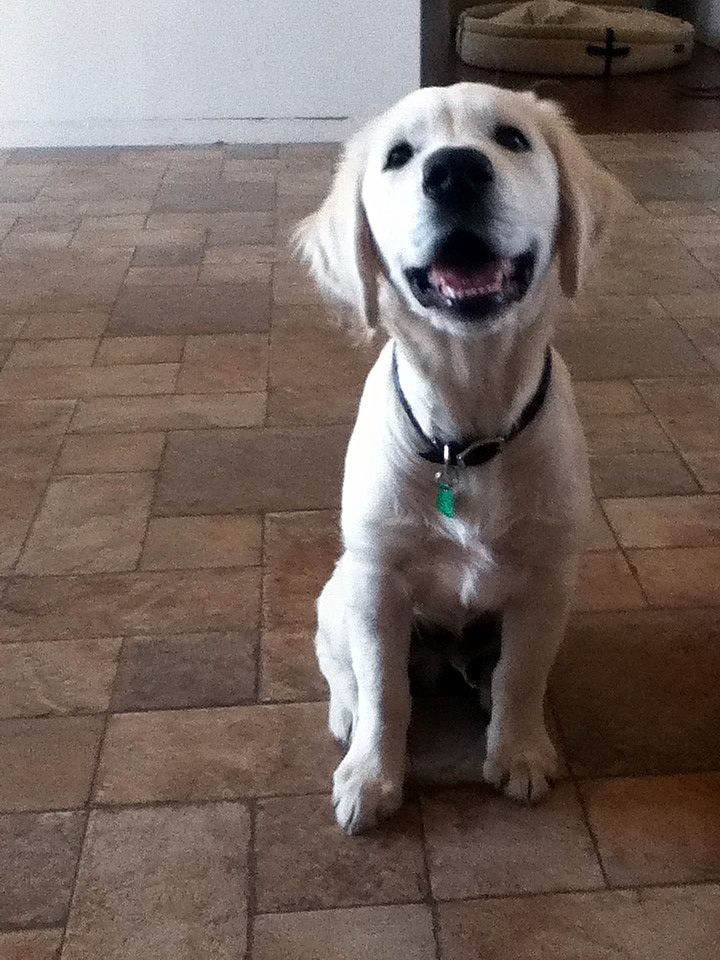 March 2011
Hello Connie!
This is Alina T! I just wanted to let you know that Boomer is doing great! He is very playful, smart, loving and energetic! He is now at 30 pounds and has all his distemper shots including his rabies shot. He's lost a couple baby teeth and the new ones are growing in really nice. He loves being outside so I cannot wait for summer to take him to the dog park! Anytime we go to the vet or the pet store or on a walk, everyone always compliments on how handsome he is. He's such a great puppy! We love him very much :)